External Enemies Can Be Well Tamed But Those Within, Only God Can Help You – Asiwaju Tinubu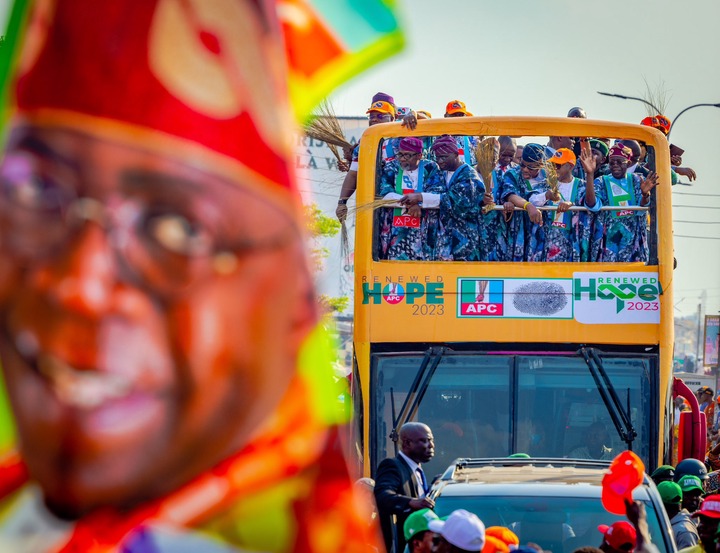 Bola Ahmed Tinubu was in Osun State yesterday for the ruling All Progressives Congress Presidential Campaign Rally held at the Freedom Park in Osogbo.
Earlier before the former Lagos State Governor headed to the campaign ground, he first landed at the State metropolis where he met with all the traditional rulers in Osun State as headed by the Ooni of Ife Oba Adeyeye Enitan Ogunwusi (Ojaja II).
His meeting with the traditional rulers in the State was mainly to raise some emerging issues which were openly discussed and also to solicit for more of their support towards making him triumph in the February 25th poll.
He was as such given a warm welcome and received with open arms alongside his entourage which was really a sign of homecoming.
Asiwaju Bola Ahmed Tinubu while addressing those in attendance for the meeting made some powerful statement as delivered in Yoruba dialect which was a pointer to the claim of Kaduna State Governor, Nasir El-Rufai who revealed couple of days ago that there are some Cabals in the Aso Villa that are working against the party and as such want them to lose the presidential election.
Reacting in this regard, Asiwaju Tinubu made it known that it is well easy for someone to tame and attack the external enemies but will only take the help of God to do same for enemies within.
"Enemies within are more dangerous than external enemies. You know how to get well prepared for an external enemies going into the battle ground, but enemies within will laugh with you and make plans with you.
May God save us from enemies within. External enemies can be well tamed but those within, only the grace of God can help you".