Obidike Chukwuebuka Reveals What Pastor Bakare Should do After Tackling Tinubu's Presidency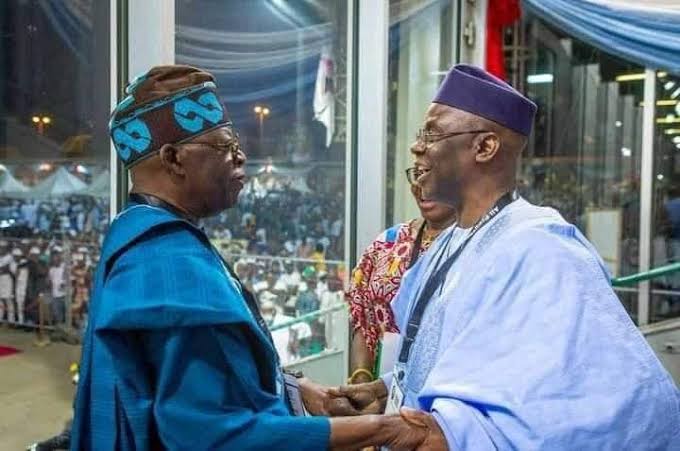 A chieftain of the ruling All Progressives Congress (APC), Obidike Chukwuebuka, has advised Pastor Tunde Bakare to retract the statement he made about the party's presidential candidate, Asiwaju Bola Ahmed Tinubu.
Pastor Bakare had spoken against Tinubu's presidential bid in his state-of-the-nation address on Sunday, January15.
The presiding overseer of the Citadel Global Community Church warned against the politics of entitlement, describing it as bad.
Pastor Bakare also made reference to the Yoruba word, 'Emi lokan", meaning it is my turn.
Emi lokan became a popular political slogan after Tinubu used it while urging the APC delegates to support him in the party's presidential primary.
Pastor Bakare was one of the aspirants Tinubu eventually defeated in the primary.
Reacting to Bakare's state, Obidike who is a member of the Contact and Mobilization of the APC Presidential Campaign Council said the cleric is a stakeholder of the ruling party and should not make comments that could negatively affect the party.
"The statement recently accredited to Pastor Tunde Bakare is not healthy for our party," he said
The APC chieftain said he recalled that Pastor Bakare in his church in September 2020 praised Tinubu, saying the former Lagos state governor has fought victorious battles for the ruling party.
"I advise him to retract the statement and put hands together to deliver our party. In as much as the statement may not affect us but as a party man, he should stop making inciting statements that ridicule the process and prosperity of our great party, the APC," Obidike added.
Meanwhile, Otunba Biodun Ajiboye, the Assistant Director of Publicity of the APC Presidential Campaign Council, PCC, has described Pastor Tunde Bakare as an inconsistently unstable person.
Ajiboye charged Pastor Bakare to steer clear of politics and stick to his pastoral duties because he's deceitful.
The APC chieftain said Bakare should stop arrogating the position of Aristotle of politics to himself.
In a statement he signed, Ajiboye likened Bakare to an "ordinary man on the street without any political clout."
According to him, Bakare's loss at the APC primaries showed that he has "zero personality, zero popularity and zero leadership."
Described the Man of God as a political paperweight whose utterances should not be given a serious thought
Reacting to this, Pastor Bakare said, "Why are they then giving any thought to what I said? May be their alleged 'paper weight' is too heavy for them to carry.
Pastor Bakare said he Scored Zero in APC Primary but have true Identity, Integrity Intact
Like The Poise On Facebook