Super Eagles to get N27m from Nigerian billionaire businessmen Dangote and Otedola for every goal scored from semi-finals of AFCON 2019
Nigeria's senior national team have received a host of financial pledges following their exploits at AFCON 2019.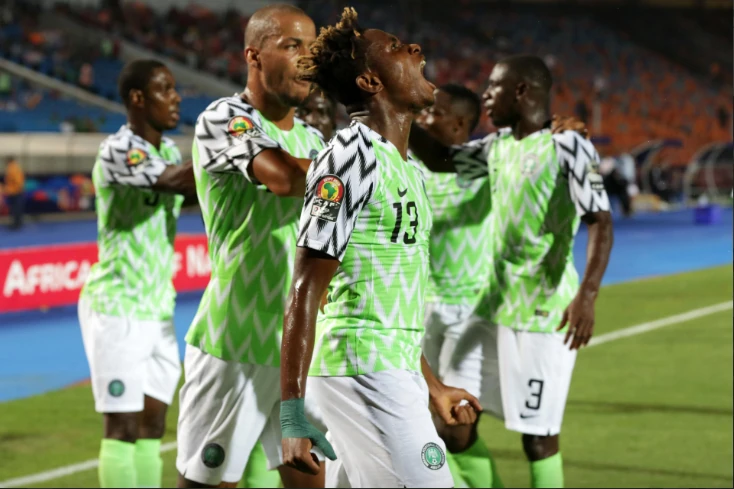 The Super Eagles of Nigeria will get N27m ($75000) for every goal scored from the semi-finals of the 2019 Africa Cup of Nations (AFCON) from Nigerian billionaire businessmen Aliko Dangote and Femi Otedola.
Nigeria on Wednesday, July 10 beat South Africa 2-1 to progress to the semi-finals of AFCON 2019.
A day after the game, the team received further boost in the form of the pledges from Dangote and Otedola.
It was president of the Nigeria Football Federation (NFF) Amaju Pinnick who informed the Super Eagles of the pledges while briefing them at the Le Meridien Cairo Airport hotel on Thursday, July 11.
Dangote made a pledge of N18m ($50,000) to the team for every goal in their remaining two matches of AFCON 2019, Otedola pledged the sum of N7m ($25,000).
This is not the only financial boost the Super Eagles have received in Egypt.
Nigerian businessman Captain Hosea Wells Okunbo pledged the sum of N7m ($20000) for every player in the squad after their 3-2 win over Cameroon on Saturday, July 6.
There was also another pledge of N1.7m ($5000) for every player from Lagos State Governor Babajide Sanwo-Olu while NFF's main sponsor AITEO pledged N9m ($25,000) for each of the three goals scored by the team against the Indomitable Lions of Cameroon.
Also on Thursday morning, the management of the Le Meridien Cairo Airport hotel presented a big cake to the Super Eagles for the 2-1 win over South Africa on Wednesday.
The hotel manager, Atef Wilson, on behalf of the management presented the cake to Coach Gernot Rohr and forward Odion Ighalo, who received on behalf of the team.
Like The Poise On Facebook