Tinubu Suffers Another Gaffe While Addressing The Mammoth Of Crowd In Osun APC Rally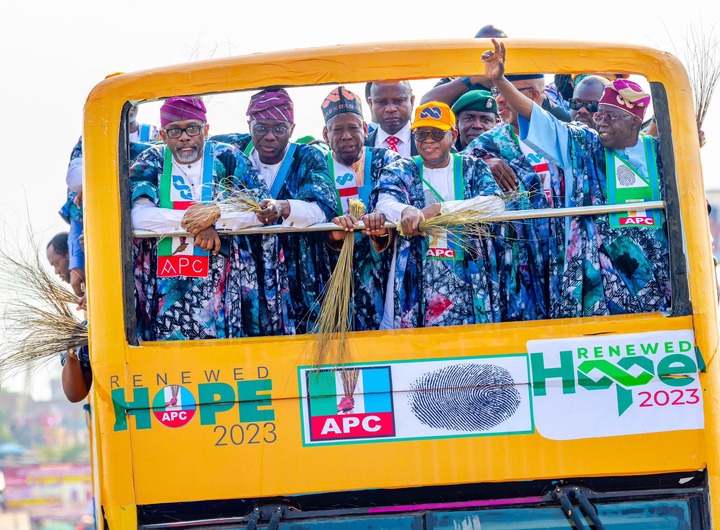 The All Progressives Congress Presidential Candidate, Asiwaju Bola Ahmed Tinubu was live yesterday in Osun State for a mega campaign rally held at the Freedom Park in Osogbo.
The event was a success as it witnessed a massive turn out of crowd who were in attendance to profess their love and support for the Tinubu-Shettima mandate of a renewed hope despite all odds.
Asiwaju Bola Ahmed Tinubu met with the good people of the State where he shared with them some of their party manifestos as well giving the blueprint of what they have in stock for Nigerians if elected into office come February 25.
This was evident at this time with the next general presidential election in the country now barely 22 days away when the electorates will make decisive choice on voting those who will sail the ship of this great nation for the next four years.
However, there was one side attraction while Asiwaju Bola Ahmed Tinubu was addressing the large number of supporters and mammoth of crowd in attendance for the big event.
Asiwaju Tinubu in the course of delivering his speech suffered yet another gaffe, as he committed a blunder by saying students in higher institution of learning will be in school for a duration of eight years before graduating which was literally to be a period of four years.
However, he was able to make the correction at the end of his statement when he was trying to recap the promise made to the good people of the State.
"I assure you that you won't spent more than eight years, you will be in school for eight years. We told you it will be four years and that four years will not pass. Those who don't have money will be given loan. Any amount they asked you to pay as school fees, we will pay it for you".